Coming out of the pandemic, let's remind ourselves to keep diversity and inclusion front of mind to ensure a positive culture and a competitive advantage as reported by McKinsey.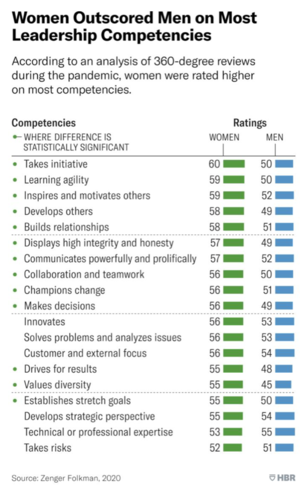 According to recently updated research, women are currently doing it better when it comes to leadership. A recent Harvard Business Review study found females performed higher than their male counterparts with 17 out of 19 key leadership competencies.
Why then in Australia in 2020 fewer women are running the country's top 200 ASX-listed companies compared to the last four years, according to the Chief Executive Women (CEW) ASX200 census report?
The answer lies in a combination of complex factors. But the good news? There are some small steps to be taken to turn the dial on gender diversity within your organisation.
Let's remind ourselves why it is so important to act now
"Inclusions and diversity are at risk in the crisis but are critical for business recovery, resilience and reimagination" (McKinsey, 2020).
A large component of this is to ensure we are providing female talent with the opportunity to thrive and succeed.
There's plenty of competition out there for talented female leaders. How successful you are in reaching them depends on your ability to both understand what female candidates want in a position, along with how good you are at engaging them once they're on board.
5 Ways To Attract, Retain & Develop Female Talent In Your Business
1. Look at your own leadership team
The PWC report provides some interesting insights about what women look for when considering, and accepting, a role.
They found almost 67% of women surveyed pondered whether the organisation had positive role models similar to themselves. This factor was even more important to women looking for a position in male-dominated fields, such as FinTech (85%), engineering and construction (82%) and asset management (78%).
In addition, just over 60% of women said they specifically looked at the diversity of leaders in the organisation when considering a position. These statistics clearly show female executives are looking for organisation's to do more than developing a diversity policy - they want to see it in action.
2. Consider what attracts talent and what your employment value proposition says about you
Traditional gender stereotypes equate ambition with men and work-life balance with women. We have found that the most attractive employer traits for both male and female professionals are the same:
Purpose & values-led culture

Flexible working environment

Competitive remuneration & career progression
So if you truly want to keep pace or ahead of the curve in securing the best talent against the competition, you need current case study examples of male and female employees demonstrating these traits in your business.
3. Keep Reviewing & assessing your talent attraction channels & processes
It's an uncomfortable reality that unconscious gender bias exists.
It can be deeply rooted and difficult to address, particularly because of its unconscious nature. That's why it's important to critically assess and reassess your end to end talent attraction model to see if you can identify any parts of the process to enable a neutral view away from personal bias.
One common example is a female candidate represented on every shortlist. Equally important and often forgotten is a female on every interview panel.
Addressing unconscious bias is tricky work, and that's where support from the right executive recruitment professionals can be highly beneficial in providing an independent view.
4. Look at your return to work policies
Transitioning back to the workforce after a career break can be difficult, particularly for women who often take extended leave to be their family's primary caregiver.
A formal career returner program is an excellent way to support them. It works by offering eligible professional women a temporary role within your organisation with a view to permanency should things go well.
Career returner programs are an ideal way to give candidates a taste of what working with your company is like, along with access to senior management and networking opportunities. They might also encompass mentor and group coaching sessions to help candidates find their feet.
5. Look at lining up your diversity and inclusion policy with your brand
While creating a diversity and inclusion policy is extremely important, it's not much use if potential candidates don't know about it.
There are many ways you can go about this and your marketing department should play a big part. Things like sharing your diversity strategy - along with visuals and stories of it in operation - across your website, social media and professional networking channels. You can also consider incorporating images that reflect the diversity within your recruitment materials.
Next Steps
If you'd like to discuss or have support in working with a talent partner to provide an independent view, then please do not hesitate to reach out at EmilyWilson@future-you.com.au.
"Emily bought an independent, unbiased view to our process. The FutureYou team ensured that the best candidate was identified, reviewed and secured for the role, regardless of being an internal or external applicant or a referral for the role. I wouldn't hesitate to use FutureYou for this competency review approach again."